Westmont of Carmel Valley
Westmont of Carmel Valley is a 134,437 s.f. senior living project located in San Diego, CA. The facility will consist of a two-story main building with 101 Assisted Living units and 17 Memory Care units. There will also be 5 single-story duplex casitas that have two bedrooms per unit.
Indoor amenities include a dining area, activity rooms, theater/chapel, fitness room, and salon. Outdoor amenities include a dining patio, scenic overlooks, internal walking trails and connection to offsite regional trail.
Scheduled completion date is Q3 2023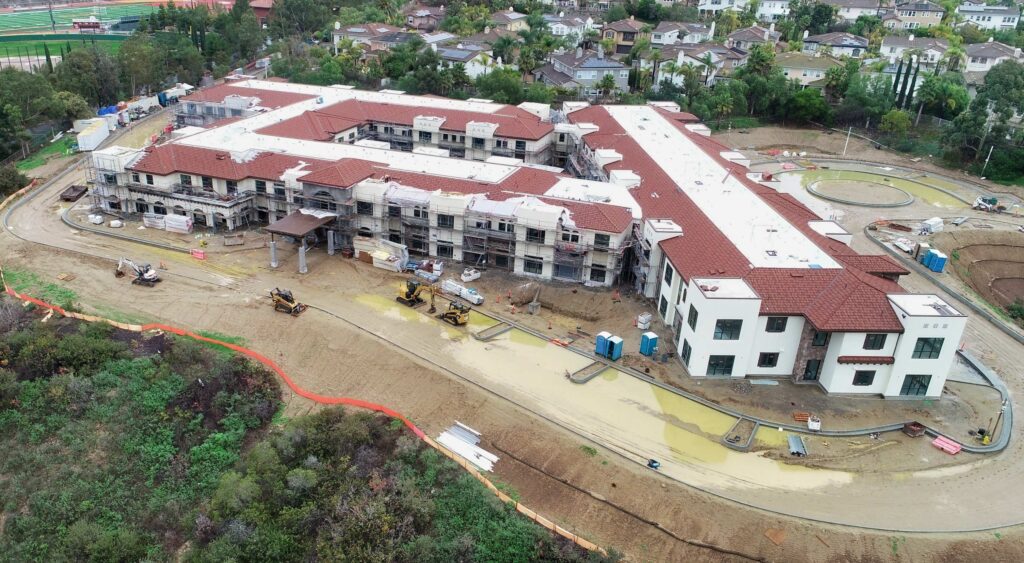 While the past month at our Carmel Valley job site has been a rainy one, our teams continue to persist through the obstacles! The south elevation of our main building is complete, giving us a sneak peek into our finished product. Installation of the elevators is underway and the entire building has been insulated. Flooring is progressing on both levels of the building which will allow for cabinets and countertops to be installed soon. Finally, stucco around the building is wrapping up nicely which will allow for the beautiful stone finish to follow in its footsteps. All of these milestones have been critical and will help our project come one step closer to completion!
Planned Street Interruptions
This month, we intend to cross Old Carmel Valley Road with low voltage which will lead to lane closures and a need to redirect traffic.
We apologize for any inconveniences throughout the construction process. The safety of all employees, neighbors and the general public is our number one priority. Please be aware of changing conditions in the public right-of-way as sidewalk and street conditions are ever changing. Heavy equipment is entering and exiting the jobsite regularly. Please be aware of your surroundings and help us keep this project safe and free of injury.
Thank you.
7:00am – 7:00pm, Monday through Friday.
Occasional work on Saturdays
Work outside of permitted hours (such as specified holidays) may occur on a case by case basis as approved by Building Services Department.
Stay Notified About This Project!
Ben Robles
Project Manager
509.844.1569
Addison Guinn
Project Engineer
817.723.7118
Mike Heck
Superintendent
951.235.4677