The Novelle will be a 4-story, 197,867 s.f. senior living facility in San Jose, CA with 166 Assisted Living units and 29 Memory Care units. There will also be 115 residential outdoor parking spaces with electric charging stations and carports, and 18,373 s.f. of common amenity space that includes commercial kitchen/dining room, bistro, theater, salon/barber shop and activity room.
Scheduled completion date is Q1 2025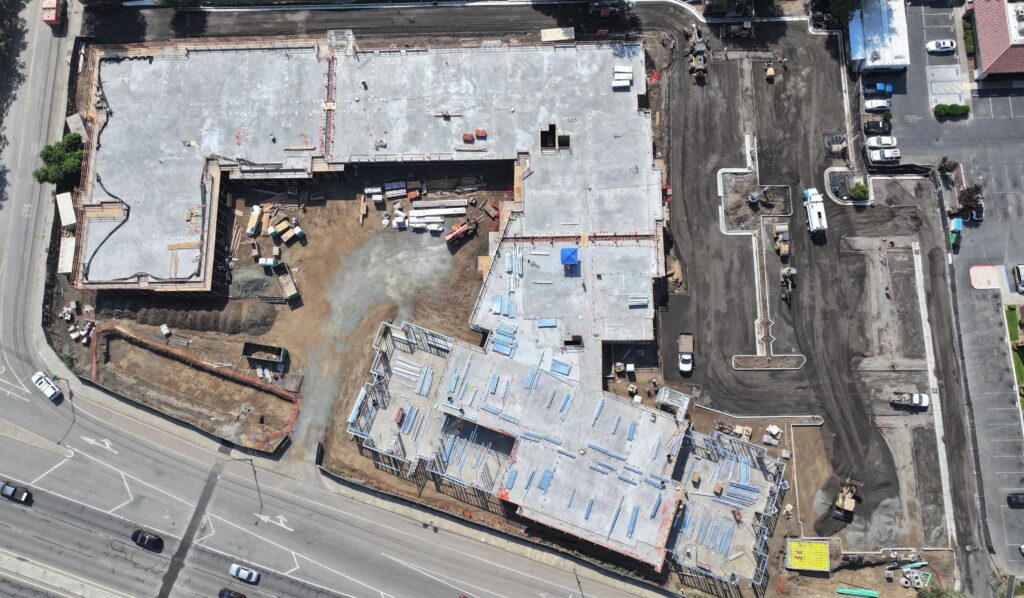 All concrete decks will be completed this month, and the framing of Levels 1 & 2 is underway. The curbs and gutters on site have wrapped up, and paving of the parking lot area will be finished in beginning of September, which will provide more material staging and an easier work flow for trucks and deliveries.
Our Mechanical, Plumbing, and Electrical contractors will coordinate and will begin their work following framing, to get started on designated areas.
If there are any complaints or concerns in regards to the construction and/or traffic in the area, please contact (408) 560-3355 during the business hours of 7am to 3pm. For any issues outside these hours, please call Kim Do, Assistant Project Manager at (408) 649-4231.
Planned Street Interruptions
There will be intermittent traffic issues for deliveries throughout the month with trucks coming in and out of Newberry and Almaden Expressway during business hours. 
We apologize for any inconveniences throughout the construction process. The safety of all employees, neighbors and the general public is our number one priority. Please be aware of changing conditions in the public right-of-way as sidewalk and street conditions are ever changing. Heavy equipment is entering and exiting the jobsite regularly. Please be aware of your surroundings and help us keep this project safe and free of injury.
Thank you.
7:00am – 7:00pm, Monday through Friday.
Work outside of permitted hours (such as specified holidays) may occur on a case by case basis as approved by Building Services Department.
Stay Notified About This Project!
Peter Friis
Project Manager
209.666.7715
Kim Do
Assistant Project Manager
408.649.4231
Brian Hutchison
Senior Project Engineer
509.496.
John Perino
General Superintendent
408.722.0093