The Gridline Apartments will consist of two buildings — a north and west building. The North Building will be 161,601 s.f. with 2,850 s.f. of common amenity space and 129 units. Community amenities will include a fitness room, rooftop club room, and a roof deck with incredible skyline views, vegetated roof areas, custom BBQ table, and outdoor fire tables. The North Building also offers multiple bike storage rooms, a secured parcel room, a tranquil courtyard, and roughly 1,256 s.f. of co-working space to accommodate the teleworking lifestyles. The West Building (31,261 s.f., 49 units) will include  two secured bike storage rooms, secured parcel room, and a roof deck with sweeping view, BBQ, fire table and vegetated roof areas.
Scheduled completion date is Q4 2023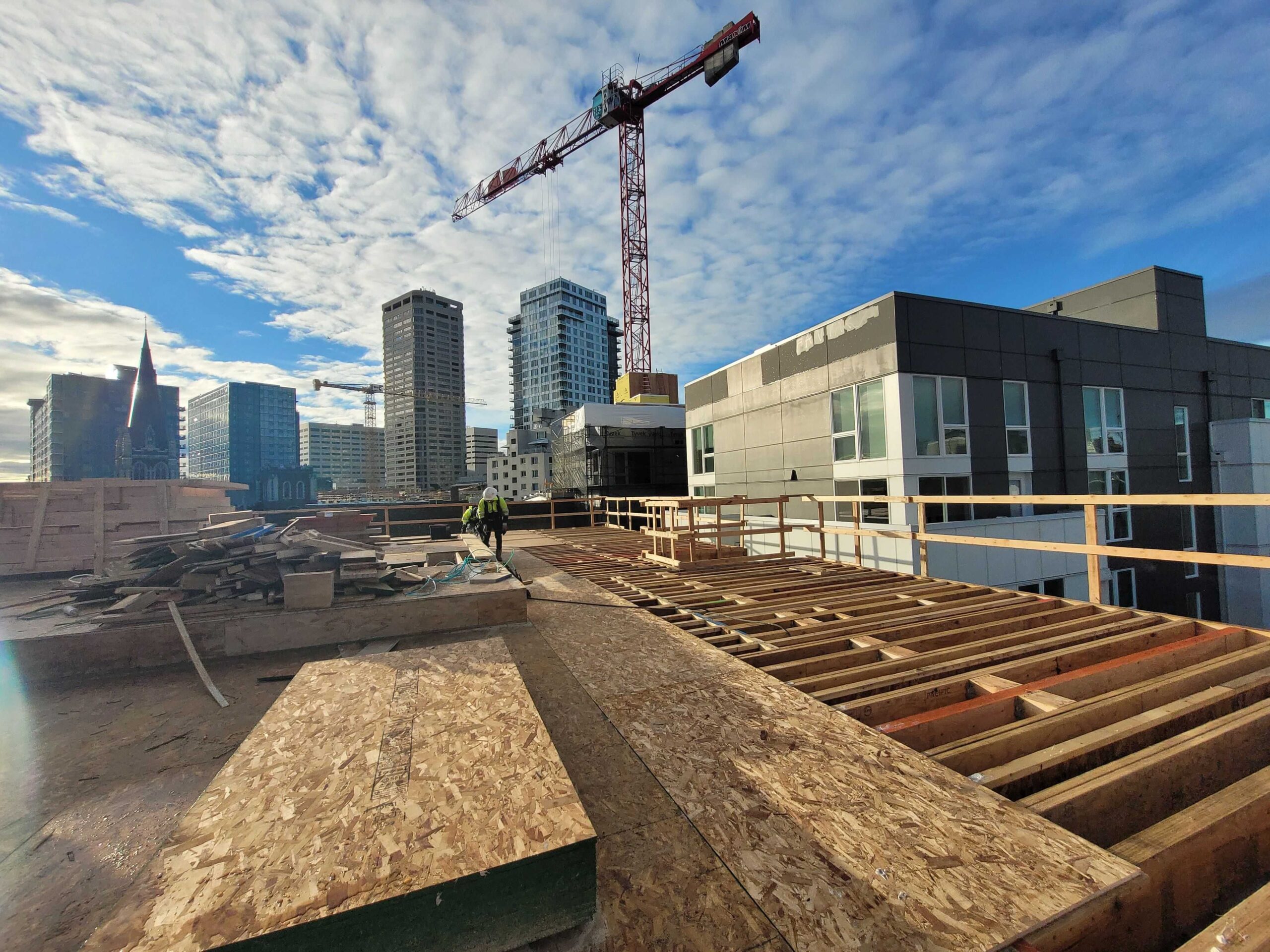 The North Building is progressing nicely, as we start framing the roof and the rest of the framing should wrap up early to mid-February! Metal framing at the concrete levels is almost finished and exterior framing is taking place this month to help further close in the building. 
Over at the West Building, we are working towards getting the building dried and the dryout process underway. All MEP work on the roof is in progress and the frame is almost fully complete! We have installed all the windows on the north façade and a handful of windows on the south while we wait for the accent framing to finish.
Planned Street Interruptions
The job site had its last big delivery so moving forward, there will be less congestion on the Harvard side related to deliveries. However, minor deliveries will still occur and the public exiting the QFC parking lot should be aware of minor delays they might encounter. One important note: shoppers at QFC should be aware when we have deliveries as flaggers may need to stop them to effectively direct traffic. Also, it is important to not enter a ticket when leaving the QFC parking lot if the gate is up and another car is ahead. The gate lets one car through per opening and this has caused individuals to get stuck.
We will be taking down the west tower crane on Saturday, January 27th which will mean a full closure of Union Street between Harvard and Boylston.
Day-Time Road Closure for Deep Sewer Work
January 23rd to January 31st 2023
As you know, SRM Construction, Inc. is working on the construction of two market rate apartment buildings known as Gridline Apartments at 1421 Harvard Avenue & 704 E Union St, next to your property.
We will be performing the ''Deep Sewer work'' on Harvard Avenue between E Union St and E Pike St from January 23rd to January 31st, 2023 (Monday) between 8 AM & 4 PM.
For this reason, there will be Day-time Road closure on Harvard Avenue from 8 am to 4 pm, since we will be digging a trench to make this connection. This disruption will be for a duration of 7 days per dates above. The Street will be functional during the night as usual.
Kindly bear with us while we complete the Sewer work. We will make sure that we do not disturb you and your residents in odd hours or in any other way apart from the specified work area & work description.
To receive construction updates for things like road closures, high noise activities, pedestrian impacts and more please visit the link below and fill out your contact information to ensure you are getting all the most recent construction updates:
https://www.srmdevelopment.com/gridline-apartments/
If you have any additional comments or concerns, you want to convey directly to the team you can reach out to the site contact Christian or Jyoti at the number below:
(206) 402-3251
We apologize for any inconveniences throughout the construction process. The safety of all employees, neighbors and the general public is our number one priority. Please be aware of changing conditions in the public right-of-way as sidewalk and street conditions are ever changing. Heavy equipment is entering and exiting the jobsite regularly. Please be aware of your surroundings and help us keep this project safe and free of injury.
Thank you.
7:00am – 6:00pm, Monday through Friday & non-legal holidays
9:00am – 6:00pm, Saturdays and legal holidays
No work on Sundays unless it's an emergency.
Work outside of permitted hours (such as specified holidays) may occur on a case by case basis as approved by Building Services Department.
Stay Notified About This Project!
Danielle Locklar
Senior
Project Manager
831.277.8680
Bill Robinson
Project Manager
714.794.7710
Christian Dobbins
Project Engineer
503.310.6447
Jyoti Bhadrashetti
Project Engineer
415.712.9789
James Wilkins
Project
Superintendent
425.772.0107