The Gridline Apartments will consist of two buildings — a north and west building. The North Building will be 161,601 s.f. with 2,850 s.f. of common amenity space and 129 units. Community amenities will include a fitness room, rooftop club room, and a roof deck with incredible skyline views, vegetated roof areas, custom BBQ table, and outdoor fire tables. The North Building also offers multiple bike storage rooms, a secured parcel room, a tranquil courtyard, and roughly 1,256 s.f. of co-working space to accommodate the teleworking lifestyles. The West Building (31,261 s.f., 49 units) will include  two secured bike storage rooms, secured parcel room, and a roof deck with sweeping view, BBQ, fire table and vegetated roof areas.
Scheduled completion date is Q4 2023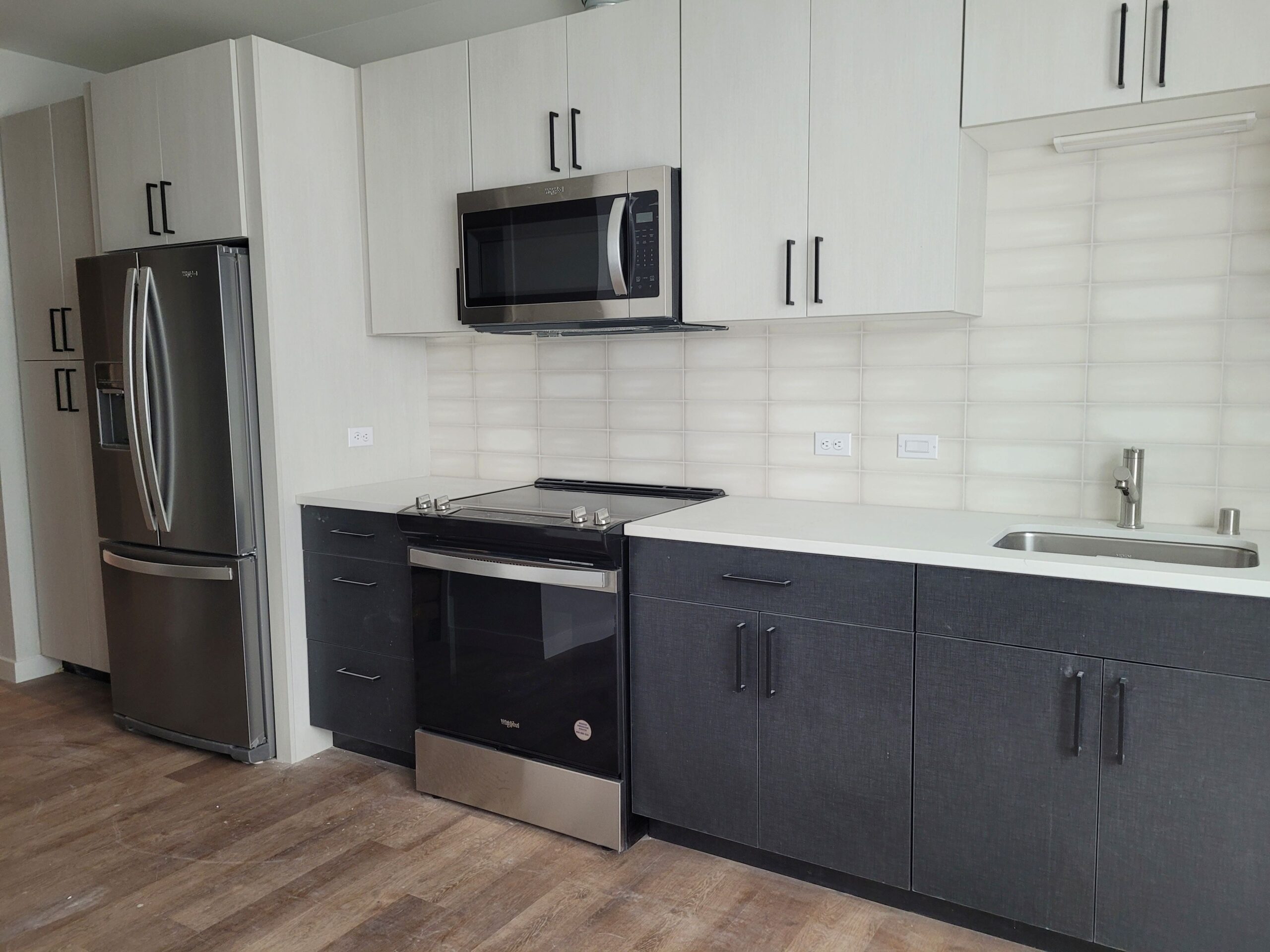 The West Building is approaching completion with unit finishes wrapping up or complete in most units, and the lobby finishes are expected to be fully complete this week. Teams are working to get the finishes and trim complete in the lower units on Level 1 and P1. The frontage on the West Building has seen a lot of activity lately with bioretention planters being built, and the curb restoration efforts taking place.
Over at the North Building, we are moving fast with finishes going in on most levels, and flooring and cabinets on floors seven through four.  The countertops are expected to arrive toward the end of the month and as soon as they are on site, we will begin installation.  Brickwork is expected to be finished on the west, north and east facades and the siding is scheduled to begin next week, starting on the north and working around the building.
Planned Street Interruptions
There is a lot of activity around our sidewalk and street frontage on the West building and because of this, East Union Street is limited to 1 lane. Drivers should use caution and be prepared for some delays.  Additionally, we still have drywall deliveries and cabinet deliveries which will cause Harvard to become a 1 lane road as well for long periods of time while we are offloading material. Drivers using Harvard or exiting the QFC lot should be aware they may experience waits during these delivery periods.
We apologize for any inconveniences throughout the construction process. The safety of all employees, neighbors and the general public is our number one priority. Please be aware of changing conditions in the public right-of-way as sidewalk and street conditions are ever changing. Heavy equipment is entering and exiting the jobsite regularly. Please be aware of your surroundings and help us keep this project safe and free of injury.
Thank you.
7:00am – 6:00pm, Monday through Friday & non-legal holidays
9:00am – 6:00pm, Saturdays and legal holidays
No work on Sundays unless it's an emergency.
Work outside of permitted hours (such as specified holidays) may occur on a case by case basis as approved by Building Services Department.
Stay Notified About This Project!
Danielle Locklar
Senior
Project Manager
831.277.8680
Christian Dobbins
Project Engineer
503.310.6447
Jyoti Bhadrashetti
Project Engineer
415.712.9789
James Wilkins
Project
Superintendent
425.772.0107