Bellara will be a 191, 842 s.f. senior living community located in Hayward, CA with 157 units of assisted living and memory care. There were will also be 94 outdoor residential parking stalls with electric charging stations, and 18,821 s.f of common amenity space. Amenities will include a large commercial kitchen and dining room to serve residents and guests, bistro, theater, wellness center/gym, salon and barber shop, activity room and a landscaped courtyard with ample seating seating areas, fire pit, BBQ and bocce court. 
Scheduled completion date is Q1 2024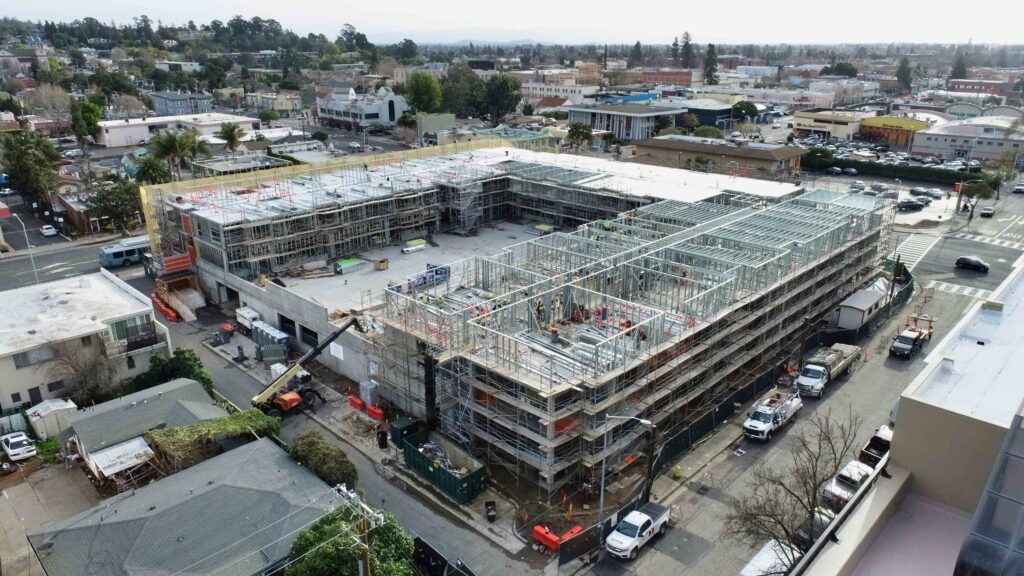 We have some very exciting milestones coming up for this senior living project! The SRM Hayward team has made great progress with framing and metal decking. Levels 1 and 2 of the building, which consist of common areas and units,  are completely framed out with Level 3 not far behind. All mechanical, electrical, plumbing and fire sprinkler crews are in progress of installing pipes and ductwork.
Should you have any questions, concerns or need to report a disturbance, please contact Reza Tabrizi at (916) 203-5122 or via email at reza@srmdevelopment.com
Planned Street Interruptions
There will be a few crane days that consist of lane closures on 2nd Street and A Street. Traffic control will be set up by the time allowed per city approval.
We apologize for any inconveniences throughout the construction process. The safety of all employees, neighbors and the general public is our number one priority. Please be aware of changing conditions in the public right-of-way as sidewalk and street conditions are ever changing. Heavy equipment is entering and exiting the jobsite regularly. Please be aware of your surroundings and help us keep this project safe and free of injury.
Thank you.
7:00am – 7:00pm, Monday through Saturday.
10:00am – 6:00pm, Saturday
Work outside of permitted hours (such as specified holidays) may occur on a case by case basis as approved by Building Services Department.
Stay Notified About This Project!
Peter Friis
Project Manager
209.666.7715
Reza Tabrizi
Assistant Project Manager
916.203.5122
Jesus Coronado
Project Engineer
408.726.4339
Rudy Lopez
Assistant Superintendent
858.568.2229